系统要求:PC/MAC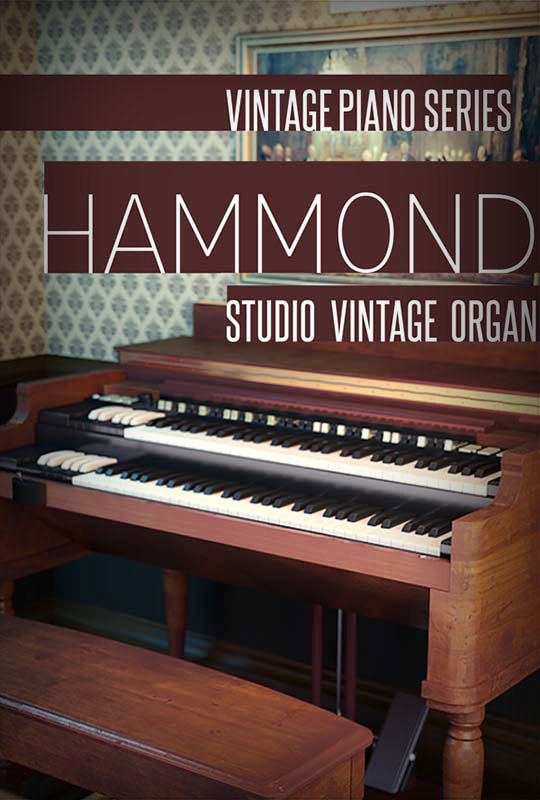 8Dio Studio Vintage Series represents the most comprehensively deep-sampled collection of vintage keyboards.

The 8Dio Studio Vintage Organ is no exception, being a faithful representation of our very own B2 – B3 Hybrid Hammond® Organ.

Having toured with some of the industries finest musicians and featured on a magnitude of headline festival stages, this work of art deserved to be archived and available for all to play.

This hybrid Hammond® Organs tone and color are indicitive to the era. With a timbre so raw and pure it is simply unmatchable.

While many other attempts at capturing factory standard Hammonds® in the past featured heavily on the Direct signal (D.I). We instead purposely chose to record the Organ in it's natural state. Using vintage and immaculately maintained Leslie cabinets. In fact we used two independent Leslie's, (and blew up a third). One to capture the genre defining rotations at all speeds, and another with a modified motor to record the pure unhindered tone of the Leslie itself.

Both of these Leslie's are available within the 8Dio Vintage Organ. "Analog" showcases the natural acoustics of the Hammond® Leslie and its expressive spinning states. Whereas "Modelled" highlights the static, non spinning, pure timbre of the Leslie cabinet. Instead with a virtual rotation applied. This allows you to choose the tone and workflow that best suits you.

It has been our mission to push sampling forwards in our entire vintage keys range. From realism to playability 8Dio Studio Vintage Organ offers the best of all worlds.

Deep Sampling
The Vintage Hammond® Organ contains over 40,500 samples, all intergrated into a fully 3D interface. Loving recorded & processed at 24bit / 96k at our British Studio through an extremely special custom Neve desk before being carefully down sampled to 48k for ease of streaming. With the best of all microphone stems and mixes available to you directly through the interfaces built in mixer sections.
Deep Options
What sets the Hammond® Vintage Organ apart from competitors is not just the great recordings, programming or stunning layout. But it is also the wealth of features – allowing you to dial in precisely the sound you want. Whether it's controlling the mix of draw bar tones, the percussion settings, the true internal effects, right down to the choice of Leslie cabinets and spinning modes. No engineering degree required. It all just makes sense and is right at your finger tips.

True short articulations with round robin repetitions (Staccato and Staccato Fast) for pure realism.

A vast array of performance features including multiple microphone mixes, effects and true to the original percussion options.

Featured both true "Analog" and versatile "Modelled" modes.
Superior Reverbs
We sampled the Hammond® Organ through two of the best studio reverbs in the world (TC6000 and Bricasti), so you get access to the sweetest sound of all. The reverbs can be activated with a single click and gives you instant access and control over the two reverbs that have defined studio reverbs more than anything else. You can control both pan, spread and volume of reverbs. No more convolution. We literally sampled the Vintage Hammond Organ through them using a pristine signal path designed by some of the worlds best engineers.
World-Class Microphones
The Hammond® Vintage Organ gives you access to the best studio microphones, including Neumann u87's & KM 184's. Neve SE Ribbons, Royers, AKG 414's all pointing to 2 independent Leslie Cabinets, and of course a powerful and dynamic mixed microphone position made from them all. So, in essence, you have multiple cabinets, microphone positions, reverbs, and a truly vintage DI Crush and DI Warm channels… Engineering doesn't get finer than this, allowing you to literally dial in precisely what sound you want with a few simple clicks.
Chaos FX
The Vintage Hammond® Organ contains our Chaos FX system, which allows you to virtually do anything you desire to the Organ. Whether its modulation, precision dial EQ, bit-crush or distort, stereo-delay or mess around with dual convolution reverbs. We also added our latest convolution, which allows you create Textural Convolution Delays on top of the existing stereo-delay and convolution reverb

8Dio Studio 复古系列代表了最全面深度采样的老式键盘系列。

8Dio工作室复古器官也不例外,是我们自己的B2 + B3混合哈蒙德®器官的忠实代表。

与一些行业最优秀的音乐家一起巡演,并在一系列重大节日舞台上亮相,这些艺术作品值得存档,供所有人播放。

这种混合的哈蒙德®器官的色调和颜色是诱人的时代。音色如此原始和纯净,简直无法比拟。

虽然许多其他尝试捕捉工厂标准哈蒙德®在过去主要在直接信号 (D.I) 上。相反,我们特意选择将器官记录在自然状态。使用复古和完美维护的莱斯利橱柜。事实上,我们使用了两个独立的莱斯利的,(并炸毁了第三个)。一个捕捉定义所有速度旋转的流派,另一个用经过修改的电机来记录莱斯利本身纯粹的不受阻碍的音调。

这两个莱斯利的在8Dio复古器官内都有。"模拟"展示了哈蒙德®莱斯利的自然声学及其富有表现力的旋转状态。而"模型"突出了莱斯利橱柜的静态、非旋转、纯音色。而是应用了虚拟旋转。这允许您选择最适合您的色调和工作流。

我们的使命是推动整个复古钥匙系列的采样。从现实主义到可玩性 8Dio 工作室复古风琴提供了最好的世界。

深度采样
复古哈蒙德®器官包含超过40,500个样本,全部融入一个完全的3D界面。爱记录 – 处理在24位/96k在我们的英国工作室通过一个非常特殊的定制Neve办公桌,然后仔细采样到48k,以方便流。通过内置混频器部分的接口,您可以直接获得最好的麦克风茎和混音。
深度选项
哈蒙德®复古风琴区别于竞争对手的不仅仅是出色的录音、编程或令人惊叹的布局。但它也是丰富的功能 - 允许您精确拨入你想要的声音。无论是控制绘制条色调的混合,打击乐设置,真正的内部效果,一直到莱斯利柜和旋转模式的选择。无需工程学位。这一切都是有道理的,在你的指尖是正确的。

真正的短发音与循环重复(斯塔卡托和斯塔卡托快速)为纯粹的现实主义。

广泛的性能功能,包括多个麦克风混音,效果和真正的原始打击乐选项。

具有真正的"模拟"和多功能的"建模"模式。
高级混响
我们通过世界上两个最好的录音室混响(TC6000和Bricasti)对哈蒙德®风琴进行了采样,因此您可以获得最甜美的声音。混响可以通过一次点击激活,并让您即时访问和控制两个混响,已经定义了工作室混响比什么都重要。您可以控制混响的平移、传播和音量。不再有卷积。我们使用由一些世界上最好的工程师设计的原始信号路径,通过它们对老式哈蒙德器官进行采样。
世界一流的麦克风
哈蒙德®复古风琴让您使用最好的录音室麦克风,包括Neumann u87的 @ KM 184的。Neve SE 丝带,罗伊斯,AKG 414 都指向 2 个独立的 Leslie 机柜,当然还有由它们组成的强大而动态的混合麦克风位置。所以,在本质上,你有多个柜子,麦克风位置,混响,和一个真正的老式DI粉碎和DI温暖通道...工程不会比这更精细,让你从字面上拨入什么你想要的,只需点击几下。
混沌FX
复古哈蒙德®器官包含我们的混沌FX系统,它可以让你几乎做任何你想到器官。无论是调制,精密拨号EQ,位粉碎或失真,立体声延迟或混淆双卷积混响。我们还添加了最新的卷积,允许您在现有立体声延迟和卷积混响的基础上创建纹理卷积延迟