系统要求:PC/MAC
软件格式:WiN32/64 - EXE/VST/AAX;mac,au,vst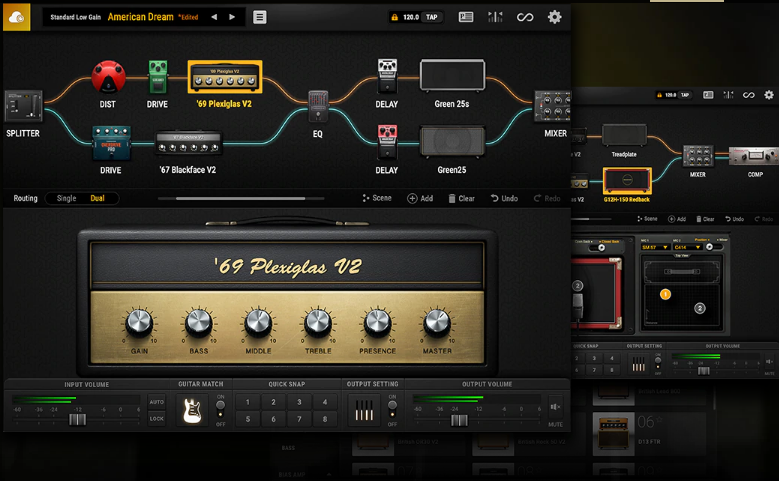 Completely Re-Engineered
Completely re-engineered, higher-resolution DSP engine with hundreds of improvements deliver the ultimate in responsive, detailed and varied guitar tones.
Hyper-realistic Guitar Match
Positive Grid's newly developed, exclusive Guitar Match and emulation technologies virtually turn your guitar into another with startling realism.
New Amps, Pedals & Racks
An extensive collection of all-new revamped amps, pedals and HD racks add unparalleled depth and width to your guitar sounds.
Stunning Advanced Modelers
All-new Fuzz, Time and Harmonizer modelers pump up your productions with exciting, unique guitar tones and effects.
BIAS FX 2 - New Era of Tone - Overview
NEW
Easy. Insanely Comprehensive
Turn Your Computer Into an All-In-One Guitar Powerhouse

Want access to famous classic and modern amplifiers and effects, right at your fingertips? BIAS FX 2 provides this and more as an intuitive, fully customizable virtual electric guitar, bass or acoustic guitar rig for Mac and PC. Works as a standalone app, allowing you to inject new tones and creativity into your playing, practicing and jamming — no need for any other software or DAW.

amp-match
NEW
Pedalboard Paradise
Thousands of Authentic, Analog-Like Pedals

BIAS FX 2's stockpile of foot pedals can be expanded by downloading thousands of shared, custom foot pedals from ToneCloud®, Positive Grid's worldwide social network of players, engineers and producers. But why stop there? With BIAS FX 2 you can easily hot rod your distortion, delay and modulation pedals using the fully integrated BIAS Pedal software included with BIAS FX 2 Elite, creating pedalboards and sounds nobody else has.

amp-match
NEW
Groundbreaking Guitar Match
Hyper-Realistic, Precision Guitar Emulation

Forget swapping out real guitars in the studio to record the next track, or grabbing another guitar onstage for the next song. With BIAS FX 2's groundbreaking Guitar Match technology, you can turn your guitar—any guitar— into a hoarder's collection of legendary axes, each precisely recreated down to their pickups, body type and body thickness. No special pickup is required to make your guitar sound like a classic American guitar, a vintage LP and more.

amp-match
BIAS FX 2 - New Era of Tone - Guitar Match
NEW
Expansive. Next-Level Effects
Make Your Productions Sound More Melodic, Bold, Deep and Wide

New Harmonizer, Fuzz and Time modelers take your recordings and live performances beyond ordinary limits. BIAS FX 2's advanced modeling suite lets you create vintage and modern fuzz pedals for more grit and sustain, time-based effects for more depth, and instantly create ensemble lead lines with multiple voices.

amp-match
Supersize Your Tracks. All New Studio Rack Collection
From essential workhorse tools to creamy vintage effects and sparkling modern outboard gear, BIAS FX 2's eight brand-new studio rack processors—EchoreX HD, Tri-Chorus, Tube Compress, Spring Reverb, Wah and more—polish your project to sound like a state-of-the-art studio's ultra-high resolution production.

amp-match
Explore History. Shape The Future
Shape your sound to perfection using advanced DSP emulation in the new Echorec Drum Delay, Tube Multiband Compressor, Rotary Speaker. A high-end collection of all-new and revamped racks adds unparalleled depth and width to your guitar and bass sounds. Each one is modeled at the component level with meticulous attention to detail.

amp-match
Celestion® Inside
Official World-Class Celestion Cabs

We've partnered with Celestion, the most trusted name in guitar speakers. Celestion drivers have been used for killer guitar tones on more classic songs than any other brand. Their impulse responses (IRs) are the favorites of guitarists ranging from Pete Thorn and Scott Henderson to George Lynch. Forget loading individual files—just select a custom Celestion cab and start moving virtual mics around. BIAS FX 2 does the rest!

amp-match
NEW
ToneCloud
50,000+ Online Presets Open a Universe of Sounds to You

Forget endless hunting—and paying for—additional presets to expand your collection of guitar tones. You gain direct access to over 50,000 presets for custom amps, pedals and pedalboards shared by the ever-expanding ToneCloud® online community. There's no need to open other software.

amp-match
Greatly Improved Workflow Speed-Dials Your Patch Recalls
When inspiration strikes, you won't have to go on a hunting expedition to find the perfect patch. With tags and keywords attached to all presets in ToneCloud®, it's now much easier to quickly find and download the right preset to keep the creative juices flowing.

amp-match
New Factory & Online Presets From The Best
New sounds inspire new riffs and songs. You'll never have writer's block with BIAS FX 2. Over 200 new factory pedalboard presets created by world-renowned artists, studio engineers and session players get your mojo cranking.

amp-match
NEW
Recording and Performance
Tighten Up Song Transitions, Live Performances and Studio Mixes

Whether you're an aspiring guitarist or an experienced pro, BIAS FX 2 makes it easier than ever to create instant song transitions, mind-blowing FX changes and ear-catching mixes—in the studio and onstage.

amp-match
Introducing Scene - One Click Changes Your Pedalboard
Each preset in BIAS FX 2 has four "scenario" settings you can create and save, so you can recall multiple distinct but closely related pedalboard scenes. With one click, you can simultaneously turn overdrive and delay on for your lead solo and turn off the chorus effect you used on the song's verse—all while preserving the rest of the preset's settings. Or, instantly switch from one pedalboard setup to another—each with completely different EQ, reverb and other settings—for different song sections.

Redesigned Workflow for Easier, More Productive Recording Sessions
Redesigned user interface includes a new preset manager that makes it easy to organize and rapidly search, recall and preview your favorite pedalboard setups. Take a custom snapshot of each of your custom pedalboard setups, then switch instantly among them on the fly to A/B which is best for your current song. Or use the snapshots to instantly re-amp when switching from a crunchy rhythm guitar part to a soaring lead solo and back again.

Use MIDI Automation To Turbocharge And Streamline Complex Mixes
BIAS FX 2's powerful MIDI features let you make startling, instantaneous mix changes and fluid, morphing transitions that captivate your fans, by automating parameter changes for each section of your song—while also shaving hours of work off your project. With BIAS FX 2, you can assign MIDI commands to virtually every parameter available, including volume control, individual effects parameters, guitar-emulation selection, Looper functions and more.

Create Unique Hybrid Amps and Sweeping Stereo Amp Setups
In BIAS FX 2, the amps you play through are limited only by your imagination. Use Dual Amp setup to cherry-pick parts from two separate amps—their impulse responses, cabs, EQs, even the mics they use—and combine them to create a one-of-a-kind hybrid amp nobody else has. Or keep the amps as they were, route them parallel to one another and hard pan them to create a freightliner-wide stereo setup with totally different guitar tones in left and right channels.

NEW
Smart Recorder/Looper
Preserves Fleeting Ideas Before They're Lost

Quickly record ideas for riffs, vamps and songs with a simple click when inspiration strikes, using BIAS FX 2's built-in recorder. Then loop your recording while you play it back through BIAS FX 2's foot pedals, amps and rack FX, fine-tuning the perfect custom preset to use with your new song idea. You'll never lose that perfectly played riff—simply export it as a WAV file to import into a new track in your DAW. With BIAS FX 2, song ideas recorded in the looper can be used as the foundation for a new multitrack recording.

完全重新设计
完全重新设计, 高分辨率 DSP 引擎与数百的改进提供了极致的响应, 详细和多样的吉他色调。
超现实吉他比赛
积极网格的新开发, 独家吉他比赛和仿真技术几乎把你的吉他变成另一个惊人的现实主义。
新安培、踏板和车架
广泛的全新放大器, 踏板和高清机架的集合增加了无与伦比的深度和宽度, 你的吉他的声音。
令人惊叹的高级建模者
全新的 Fuzz, 时间和谐波建模器泵起你的作品与令人兴奋的, 独特的吉他色调和效果。
比斯外汇 2-新的时代的味道-概述
新增功能
容易。疯狂的全面
将您的计算机变成一个一体化的吉他动力

想要访问著名的经典和现代放大器和效果, 就在你的指尖?BIAS FX 2 提供了这一点和更多的直观, 完全可定制的虚拟电吉他, 低音或声学吉他钻机的 Mac 和 PC。作为一个独立的应用程序, 让您注入新的色调和创造力, 你的发挥, 练习和干扰-不需要任何其他软件或 DAW。

安培匹配
新增功能
踏板天堂
数以千计的正宗, 类似的踏板

BIAS FX 2 的脚踏踏板库存可以通过从 Tonemodwle®下载数千个共享的定制脚踏踏板来扩展, 该踏板是积极的玩家、工程师和生产商的全球社交网络。但为什么要停在那里呢?与 BIAS FX 2, 你可以很容易地热棒您的失真, 延迟和调制踏板使用完全集成的 BIAS 踏板软件包括比斯外汇2精英, 创建踏板和其他人没有。

安培匹配
新增功能
突破性的吉他比赛
超现实、精确的吉他仿真

忘了在演播室里交换真正的吉他来录制下一首曲目, 或者在舞台上为下一首歌抢另一把吉他。利用 BIAS FX 2 突破性的吉他比赛技术, 你可以把你的吉他--任何吉他--变成一个囤积者的传奇轴集合, 每个轴精确地再现到他们的皮卡, 身体类型和身体厚度。没有特殊的皮卡是需要使你的吉他听起来像一个经典的美国吉他, 一个老式的 LP 和更多。

安培匹配
双时士 FX 2-新的时代的根-吉他匹配
新增功能
膨胀。下一级效果
让您的产品听起来更旋律, 大胆, 深和宽

新的和谐器, Fuzz 和时间建模器采取您的录音和现场表演超越了普通的限制。比斯外汇2的高级建模套件让您创建复古和现代的模糊踏板, 以获得更多的勇气和维持, 基于时间的效果, 以获得更深入的效果, 并立即创建具有多个声音的整体引线。

安培匹配
超大你的轨道。所有新的演播室架系列
从必要的工作马工具到奶油复古效果和闪闪发光的现代户外装备, 比斯外汇2的八个全新的工作室机架处理器-E良多克高清, 三合唱, 管压缩, 弹簧混响, 华和更多-抛光你的项目听起来像一个最先进的演播室的超高分辨率生产。

安培匹配
浏览历史记录。塑造未来
使用先进的 DSP 仿真, 在新的 Ecorec 鼓延迟, 管多波段压缩机, 旋转扬声器, 使您的声音完美。一个高端的收集所有新的和改造的机架增加了无与伦比的深度和宽度, 你的吉他和低音的声音。每一个都是在组件级别建模的, 对细节都有一丝不苟的关注。

安培匹配
内部
官方世界级的腹腔

我们与 Cel竟然合作, cel居奇是吉他扬声器中最值得信赖的名字。在比任何其他品牌更多的经典歌曲上, 塞西德姆司机被用于杀手吉他音色。他们的冲动反应 (Ir) 是吉他手的最爱, 从皮特·索恩和斯科特·亨德森到乔治·林奇。忘记加载单个文件-只需选择自定义 Cel加薪 cab 并开始移动虚拟麦克风即可。二时外汇2做的休息!

安培匹配
新增功能
托内云
50000 + 在线预设打开一个世界的声音给你

忘记无休止的狩猎-和支付-额外的预设, 以扩大您的吉他音色的集合。您可以直接访问超过 50, 000个预设, 用于定制的安培、踏板和踏板, 这些预设由不断扩展的 Tonemodu®在线社区共享。没有必要打开其他软件。

安培匹配
极大地改进了工作流程快速拨号您的补丁召回
当灵感来袭时, 你不必去狩猎探险就能找到完美的补丁。随着标签和关键字附加到 Tonemody®中的所有预设, 现在可以更轻松地快速找到并下载正确的预设, 以保持创意果汁的流动。

安培匹配
新工厂和在线预置来自最好的
新的声音激发新的裂痕和歌曲。你永远不会有与 BIAS FX 2 的作家块。由世界知名艺术家、工作室工程师和会话玩家创建的200多个新的工厂踏板预设可让您的 mojo 启动。