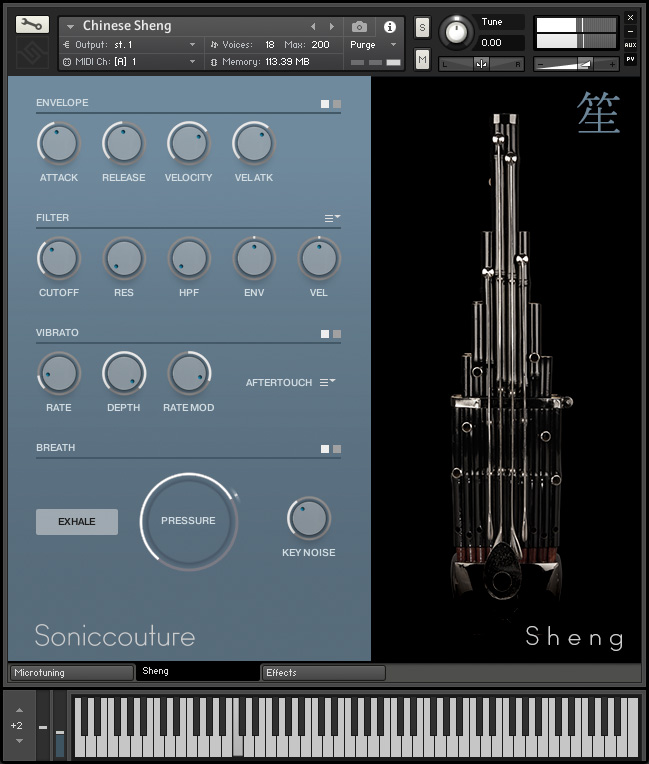 SHENG KHAEN SHO
ASIAN FREE REED COLLECTION
3 INSTRUMENTS BREATH + PRESSURE MODELLING KONTAKT PLAYER + NKS
Sheng Khaen Sho
ELEGANCE. BALANCE. RHYTHM.
The Chinese Sheng, Laotian Khaen, and Japanese Sho are three very similar instruments with a common ancestor. They have been traditionally made from bamboo, the aluminium of the east, since the 14th century BC.
Sound is created by both inhaling and exhaling - as with a western mouth-organ.
By controlling his breath the player can keep an almost endless sustained sound, characteristic of Japanese Sho technique, or a quick rhythmic pulsing, typical of Khaen performance.
THE FREE REED INSTRUMENTS
Chinese Sheng
sheng.jpg
Dating from the 14th century B.C., the sheng is the most technically developed instrument, with metal keys and a fully chromatic tuning. Modern Sheng come in various sizes including some very large bass instruments, but for this library we sampled a standard alto instrument with 30 pipes.
Laotian Khaen
Khaen.jpg
The Khaen has the longest pipes in our collection, but is also the most "rustic" of the three and lacks the finesse and sensitivity of the other two. A typical Khaen performance uses breathing to create a quick rhythmic pulsing effect.
Japanese Sho
Sho.jpg
The Sho is the smallest of the three and has a the highest pitch register. The instrument was introduced to Japan from China in the 8th century AD and became a primary woodwind in the court Gagaku ensembles of the Heian period. There has been a rediscovery of the instrument in modern times with new pieces being written for the instrument by such composers as John Cage, Toru Takemitsu, and Alan Hovhanness. Björk used Sho as a primary instrument in the music to her film Drawing Restraint 9.
Sheng
Sheng-details1.jpg
Sheng keys and mouthpiece.
The performer blows into the central chamber to provide pressure to the instrument. Covering a hole in a pipe allows air to pass and vibrate that reed so the pipe will sound. Each pipe makes a single pitch, but as many pipes can sound at once these instruments are polyphonic.
Sho
Sho-details1.jpg
Sho mouthpiece and close up of pipes
Sho
sho-closeup.jpg
Sho pipes from above
Using The Khaen Instrument
How to recreate an authentic Khaen performance with our instrument, using the breath modelling function.
This video shows the different note elements and how to put them together as MIDI.
In this video you hear only the Soniccouture Khaen.
THE KONTAKT INSTRUMENT
SHENG: INSTRUMENT PANEL
Sheng.jpg
INHALE / EXHALE CONTROL KEY NOISE CONTROL DYNAMIC VIBRATO CONTROL PRESSURE CONTROL
The Sheng instrument page features comprehensive control over the instrument behaviour, with user configurable breath control, including inhale /exhale switching, pitch offset and instability. A full set of envelopes, LFOs and filters add creative possibilites.
KHAEN: INSTRUMENT PANEL
Khaen.jpg
BREATH CONTROL DRONE NOTE KEY NOISE CONTROL
The Khaen features a 'drone' key in addition to the inhale /exhale controls, as well as the envelope, LFO and filter setup.
SHO: INSTRUMENT PANEL
Sho.jpg
INHALE / EXHALE CONTROL DYNAMIC VIBRATO CONTROL PRESSURE CONTROL
The Sho instrument page also features user configurable breath control, with inhale /exhale switching, pitch offset and instability. A full set of envelopes, LFOs and filters add creative possibilites.
MICROTUNING PANEL
Tune.jpg
50 PRESET SCALES PER NOTE + OCTAVE CUSTOM TUNING SAVE + LOAD USER PRESETS
The Tuning panel offers powerful control over scales and individual notes. Choose from over 50 preset scales including pentatonics, African, Chinese & Mesopotamian setups, or create your own unique micro-tuning.
EFFECTS PANEL
FX.jpg
MODULAR INSERT FX CHAIN 16 EFFECT TYPES CONVOLUTION REVERB PROCESSOR
A completely user configurable FX chain: choose from 16 different effects in 6 insert slots - in any order you like. The Space processor offers everything from straight rooms and halls to ambient convolution effects.
Sheng Khaen Sho | Sound Design
The breathy, sustained timbres of the asian free reed instruments is an interesting palette for sound design.
Sculpt with 22 different filters, LFOs and modulation envelopes, not to mention the custom FX section.
Sheng Khaen Sho includes 30 sound design snapshot presets as inspiration for your own sonic exploration.
PoweredByKontakt+NKS.png
盛汉勋
亚洲免费芦荟系列
3 仪器
盛汉绍
优雅。平衡。节奏。
中国盛,老挝人,和日本的Sho是三个非常相似的仪器,有共同的祖先。 自公元前14世纪起,它们就由东方的铝竹制成。
声音是由吸入和呼出产生的-就像用西方口琴。
通过控制他的呼吸,玩家可以保持几乎无尽的持续声音,日本Sho技术的特点,或快速的有节奏的脉冲,典型的Khaen表现。
免费簧片乐器
中国盛
盛.jpg
可追溯到公元前14世纪,盛是技术最发达的仪器,金属键和全色调谐。 现代盛来各种大小,包括一些非常大的低音乐器,但对于这个库,我们采样一个标准的阿尔托仪器与30管。
老挝人·哈恩
Khaen.jpg
Khaen 拥有我们收藏中最长的管道,但也是三个管道中最"鲁吉"的,并且缺乏其他两个管道的细腻和敏感性。典型的 Khaen 表演使用呼吸来创建快速的有节奏的脉冲效果。
日本Sho
Sho.jpg
Sho 是三个中最小的,并且拥有最高的音高寄存器。 该乐器于公元8世纪从中国传入日本,成为海安时期宫廷加古阁合奏中的主要木风。在现代,乐器重新发现,约翰·凯奇、托鲁·武米苏和艾伦·霍夫汉内斯等作曲家为乐器创作了新作品。 比约克将Sho作为她电影《绘画约束9》音乐的主要乐器。
盛
盛细节1.jpg
盛键和喉舌。
表演者吹入中央室,向乐器施加压力。覆盖管道上的孔允许空气通过并振动簧片,使管鸣。 每个管道都做一个单音,但尽可能多的管道可以同时发出这些乐器是复音。
小秀
Sho-详细信息1.jpg
Sho 喉舌和管道的特写
小秀
sho-特写.jpg
从上面的肖管
使用科恩仪器
如何使用我们的仪器,使用呼吸建模功能,重现正宗的Khaen性能。
本视频显示不同的音符元素,以及如何将它们放在一起作为MIDI。
在这个视频中,你只听到声波。
孔塔克特仪器
盛:仪表板
盛.jpg
INHALE / 高光控制键控制控制控制控制控制
胜仪器页面具有对仪器行为的全面控制,具有用户可配置的呼吸控制,包括吸气/呼气切换、音调偏移和不稳定性。全套信封、LFO 和过滤器增加了创意的可能性。
KHAEN:仪表板
Khaen.jpg
呼吸控制无人机注意键噪声控制
除了吸气/呼气控制以及信封、LFO 和过滤器设置外,Khaen 还具有"无人机"键。
SHO: 面板
Sho.jpg
吸入 / 辅助控制控制控制控制
Sho 仪器页面还具有用户可配置的呼吸控制功能,具有吸气/呼气切换、音调偏移和不稳定性。全套信封、LFO 和过滤器增加了创意的可能性。
微调谐面板
Tune.jpg
50 个预置刻度,每个笔记都 = 可调整的自定义保存 = 加载用户
"调优"面板可对比例和单个音符进行强大的控制。从 50 多个预设比例中进行选择,包括五角音、非洲、中文和美索不达米亚设置,或创建自己的独特微音。
效果面板
FX.jpg
模块化插入FX链 16效果类型卷积混响处理器
一个完全用户可配置的FX链:从16种不同的效果选择在6个插入插槽 - 以任何你喜欢的顺序。Space 处理器提供从直房间和大厅到环境卷积效果的一切。
盛汉绍 |声音设计
亚洲自由簧片乐器的令人窒息的、持续的音色是声音设计的有趣调色板。
雕刻与22个不同的过滤器,LFO和调制信封,更不用说自定义FX部分。
盛肯Sho包括30个声音设计快照预设作为灵感,为您的声波探索。
动力比孔塔克特_NKS.png