系统要求:PC
FAST. FLEXIBLE. INNOVATIVE.
Video editing with VEGAS Pro 17
VEGAS Pro 17 is here to make your video production more efficient than ever before. Explore multiple nested timelines, industry-leading HDR editing tools, and an easy-to-use, yet powerful color grading workflow. In combination with over 30 new features, VEGAS Pro 17 provides comprehensive workflow improvements that will supercharge your video production.
Editing | Color Grading | Special Effects | Audio Editing | Final Delivery
SPEED FLEXIBILITY INNOVATION
Flexibility
EDITING. Work smarter, not harder.

Nobody edits faster than a passionate creative with VEGAS Pro at hand. The timeline editing tools make editing fast and easy. But more importantly, they bring out your creativity, because ideas flow freely when you're not preoccupied by clumsy editing tools. No NLE enables you to edit, think and create more effectively than VEGAS Pro.
Nested timelines

Organize projects and speed up your workflow with nested timelines. Move easily between timelines within the master project, or access your nested timelines as stand-alone projects to work on them independently.
Smart Split
Smart Split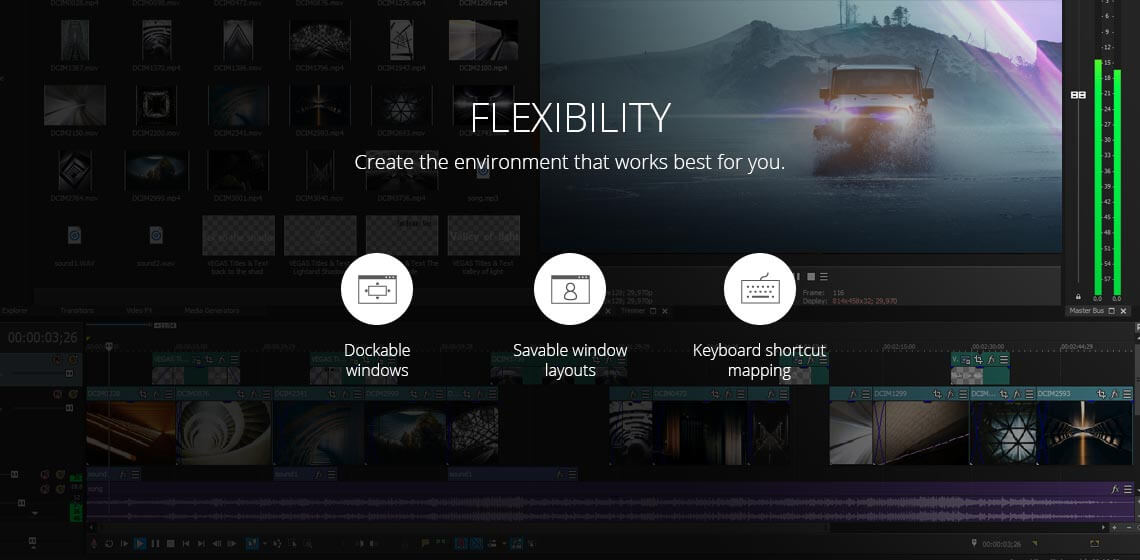 With Smart Split you can remove whole sections of a video clip and leave behind a virtually undetectable edit with complete flexibility to adjust the results if you need to in order to get it just right. No more ugly jump cuts!
"Hamburger" menu system
"Hamburger" menu system

This innovative menu system enables you to customize high-traffic areas of the user interface so you can find the tools you need quickly while at the same time keeping the workspace clutter free.
ALL EDITING FEATURES
COLOR GRADING. Simple as a brush.

Powerful, professional-level color grading tools empower you to do your best work, and the color grading workflow in VEGAS Pro provides fast, powerful, flexible options for everything you need to do. Provide the final perfect look of your film, even in HDR.
Unified Color Grading workflow

Take your color grading and correction to the next level with the new unified workflow in the color grading panel. Import and export LUTs, adjust colors with color wheels, curves, and much more. Supports HDR color adjustments beautifully.
LUT Export
LUT Export

Have you created the perfect color look? Want to use it on multiple clips, in other projects, or share it with other VEGAS users? Export your color grading settings as a LUT in .cube format for easy application to other files anywhere LUTs can be imported.
HLG HDR Support

Join the HDR leader on the cutting edge. Work with HLG or HDR10 files in the ACES 1.1 color space. Preview in HDR in the VEGAS Preview window or to an external HDR monitor. Grade colors in HDR with HDR-enabled video scopes. Deliver in full HDR glory – even to YouTube.
ALL COLOR GRADING FEATURES
SPECIAL EFFECTS. Enlighten your viewers.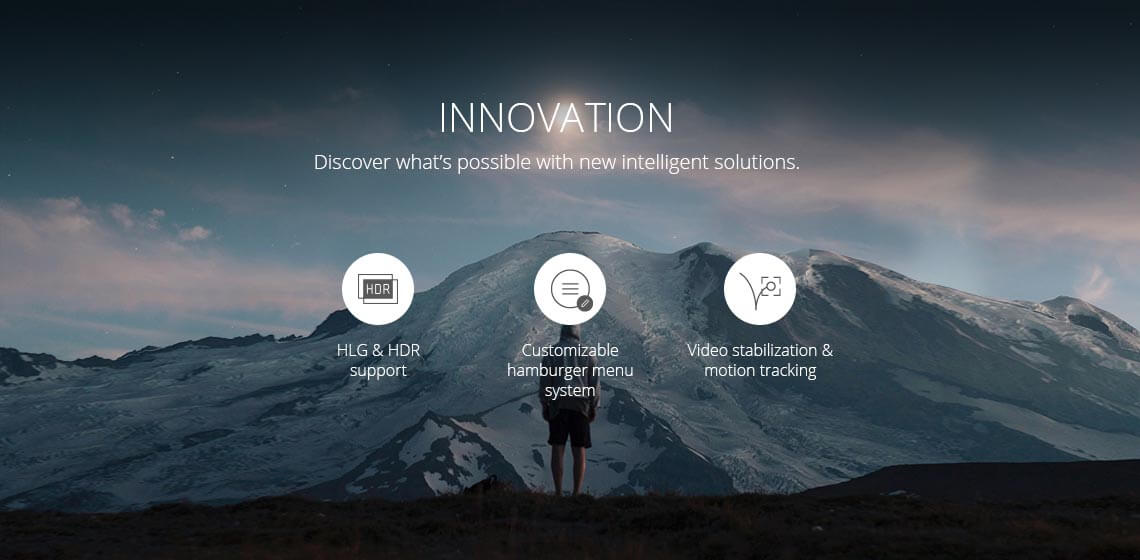 With complete support for Open FX plug-ins, VEGAS Pro features a wide range of built-in effects and can use your third-party effects from the industry's top plug-in Manufactures. With the ability to create effects chains at four different levels that can include up to 32 plug-ins per chain, you have all the room you'll ever need to get as creative as you want.
Mesh Warp
Mesh Warp

Stretch and deform your video in virtually any way imaginable with the Mesh Warp effect. From something as simple as mapping a video to the side of a building in another video, to creating crazy distorted video effects, the possibilities are endless.
Optical-Flow Slow Motion
Optical-Flow Slow Motion

With carefully-crafted proprietary optical flow technology, VEGAS Pro creates video frames your camera didn't shoot to fill in between actual frames and give you incredibly smooth slow motion.
Creative compositing modes
Creative compositing modes

A complete set of compositing mode options makes VEGAS Pro a powerful compositing tool. Add the output of two clips, subtract one from the other, or calculate the difference. Get creative!
ALL SPECIAL EFFECT FEATURES
AUDIO EDITING. Set the tone.

A great film needs great sound to underscore and intensify your visuals and create a moving auditory experience for your audience. VEGAS Pro provides a complete audio environment with tools for professional audio editing. With full VST interface support, dozens of effects and real-time rendering, no other NLE provides a digital audio workstation feature set as robust as the tools in VEGAS Pro.
Robust multitrack audio environment
Robust multitrack audio environment

VEGAS Pro includes powerful audio recording and editing tools for the most demanding productions. Record audio in a multitrack environment with input buses, professional metering, punch-in recording, unlimited tracks and more.
Extensive audio effects
Extensive audio effects

VEGAS Pro supports standard VST interfaces. Apply effects to tracks, individual events on a track, auxiliary audio busses and the master buss. Choose from more than 40 included signal and effects processing tools and automate effects with real-time envelope control.
Audio synchronization for multicam
Audio synchronization for multicam

Leverage your audio waveforms for automatic synchronization of multiple video files on separate tracks, to make multi-camera event editing quick and efficient.
ALL AUDIO EDITING FEATURES
FINAL DELIVERY. Render, don't surrender.

All your hard work would mean nothing without the ability to deliver it in the formats you need...and as quickly as possible. VEGAS Pro offers tons of delivery options and makes it easy to choose the most common formats and templates, or completely customize your project renders. You'll always hit your target delivery no matter what the final output requirements.
GPU accelerated rendering

With support for cards from the industry's leading manufacturers including NVIDIA, AMD and Intel, VEGAS harnesses the power of GPU processing from the most popular graphics cards to accelerate rendering of popular AVC and HEVC formats to as much as twice the speed.
Support for up to 8K
Support for up to 8K

Modern productions push the limits with higher and higher resolutions. VEGAS Pro supports up to 8K files from beginning to final delivery, so now you can deliver stunningly high resolution files for super-large format projection or any other high-resolution need.
VEGAS DVD Architect
VEGAS DVD Architect

VEGAS DVD Architect allows you to create DVD and Blu-ray discs with professional authoring functions. The intuitive drag & drop interface, compact layout and comprehensive authoring tools make producing menu-based Blu-ray and DVD projects easy.
Exclusively in Pro | 365 | Suite

快速。灵活。创新。
视频编辑与 VEGAS 专业 17
VEGAS Pro 17 让您的视频制作比以往更加高效。探索多个嵌套时间线、业界领先的 HDR 编辑工具以及易于使用且功能强大的颜色分级工作流。VEGAS Pro 17 与 30 多种新功能相结合,提供全面的工作流程改进,可提升您的视频制作。
编辑 |颜色分级 |特殊效果 |音频编辑 |最终交付
速度灵活性创新
灵活性
编辑。更聪明地工作,而不是更努力。

没有人编辑比一个充满激情的创意与VEGAS Pro在手。时间线编辑工具使编辑变得快速而简单。但更重要的是,它们会激发您的创造力,因为当您不全神贯注于笨拙的编辑工具时,创意会自由流动。没有 NLE 使您能够比 VEGAS Pro 更有效地编辑、思考和创建。
嵌套时间线

使用嵌套时间线组织项目并加快工作流程。在主项目中的时间线之间轻松移动,或作为独立项目访问嵌套时间线,以独立处理这些时间线。
智能拆分
智能拆分

使用智能拆分,您可以删除视频剪辑的整个部分,并留下几乎无法检测到的编辑,并完全灵活地调整结果,如果需要,以便恰到好处。没有更多的丑陋的跳跃削减!
"汉堡"菜单系统
"汉堡"菜单系统

这种创新的菜单系统使您能够自定义用户界面的高流量区域,以便您可以快速找到所需的工具,同时保持工作空间杂乱。
所有编辑功能
颜色分级。简单如刷子。

强大的专业级色彩分级工具使您能够完成最佳工作,VEGAS Pro 中的颜色分级工作流程可为您提供快速、强大、灵活的选项,满足您的一切需求。提供电影的最终完美外观,即使在 HDR 中也是如此。
统一颜色分级工作流

使用颜色分级面板中新的统一工作流,将颜色分级和校正级别提高到一个新的水平。导入和导出 LUT,使用色轮、曲线等调整颜色。支持 HDR 颜色调整精美。
出口
出口

你创造了完美的颜色外观吗?想要在多个剪辑、其他项目中使用它,还是与其他 VEGAS 用户共享?将颜色分级设置导出为 LUT 格式为 .cube 格式,以便轻松应用于可导入 LUT 的其他文件。
HLG HDR 支持

加入 HDR 领导者的前沿。在 ACES 1.1 颜色空间中处理 HLG 或 HDR10 文件。在 VEGAS 预览窗口中的 HDR 中预览,或到外部 HDR 监视器进行预览。HDR 中的分级颜色,支持 HDR 的视频范围。提供完整的 HDR 荣耀 - 甚至到 YouTube。
所有颜色分级功能
特殊效果。启发你的观众。

VEGAS Pro 完全支持 Open FX 插件,具有广泛的内置效果,可以使用业界顶级插件制造商的第三方效果。能够创建四个不同级别的效果链,每个链中最多包含 32 个插件,因此您拥有所需的所有空间,可以随心所欲地发挥创意。
网格变形
网格变形

使用网格扭曲效果,几乎可以以任何可以想象的方式拉伸和变形视频。从将视频映射到另一个视频中建筑物的一侧,到创建疯狂扭曲的视频效果等简单内容,可能性是无穷无尽的。
光流慢动作
光流慢动作

凭借精心制作的专有光流技术,VEGAS Pro 可创建相机未拍摄的视频帧,以填充实际帧之间的帧,并为您提供难以置信的平滑慢动作。
创意合成模式
创意合成模式

一套完整的合成模式选项使 VEGAS Pro 成为功能强大的合成工具。添加两个剪辑的输出,从另一个剪辑中减去一个剪辑,或计算差值。发挥创意!
所有特殊效果功能
音频编辑。设置基调。

一部伟大的电影需要伟大的声音来强调和强化你的视觉效果,并为您的观众创造一个移动的听觉体验。VEGAS Pro 提供完整的音频环境,并提供用于专业音频编辑的工具。凭借完整的 VST 接口支持、数十种效果和实时渲染,没有其他 NLE 能够提供与 VEGAS Pro 中的工具一样强大的数字音频工作站功能集。
强大的多轨音频环境
强大的多轨音频环境

VEGAS Pro 包括功能强大的音频录制和编辑工具,适用于要求最苛刻的制作。使用输入总线、专业计量、冲压录制、无限轨道等多轨环境中录制音频。
广泛的音频效果
广泛的音频效果